HUNTSVILLE, AL – Ms. Vinita Johnson, a Project Manager at LogiCore Corporation since 2011, is a model for volunteer and community service.  She has enthusiastically volunteered to attend and support the Inspire & Achieve 2015 High School Annual Scholarship Award Ceremonies. She is a willing worker and always ready to lend a helping hand.  Vinita says, "volunteering is great way to give back.  It is very rewarding to know that I give back to my company in a way that goes beyond the workplace.  I give in appreciation for being a part of a super company that is making significant contributions in our industry and in our community.  Volunteering helps make a difference in our community and shows that our company cares and it's part of what makes me proud to be a LogiCore employee."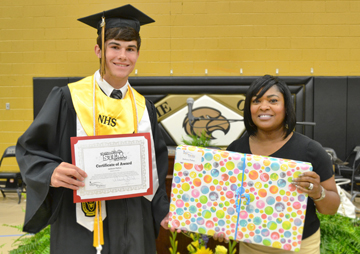 Vinita Johnson photographed with 2015 essay winner Jackson Pettus
at the Athens High School Awards Day.


"LogiCore has a globally-minded President/CEO who pushes us to think outside of the box. This includes thinking beyond our office space and extending our support into the communities that we live in. I am happy to volunteer in support of LogiCore and Inspire & Achieve's initiatives to spread goodwill into our communities," Vinita says.
Vinita  holds a Master of Science degree in Logistics Management from Florida Institute of Technology. She graduates in July with a Master of Science degree in Project Management. She is SCRUM certified as a Senior Logistician (DSL) and an active member of the Project Manager Institution (PMI). As Project Manager, Vinita is responsible for overall management of assigned contracts to ensure LogiCore's service and deliverables meet all performance objectives. She also serves as an Internal Auditor and Accountable Property Book Officer at the Headquarters facility.
Miranda Bouldin, Founder of Inspire & Achieve and Chairman of the Board says, "Each year, Inspire & Achieve awards up to ten $1500 scholarships and a laptop to winning students for their participation in the Annual Essay Contest.  This year, awards were made to the following High Schools; Bob Jones, Madison County, Hazel Green, Lawrence County, Sparkman, and Athens High School. There is a tremendous amount of planning involved in this initiative and I am thankful for Ms. Johnson and such a supportive team of professionals and volunteers.  We have so many talented students and we are proud to celebrate their moment as they are recognized for their accomplishments over the last 12 years of school.  I am thankful to our counselors and teachers for their resolve and commitment to higher education.  This is good for our community, our future workforce and our economy.  I congratulate the senior class of 2015!"
Don't forget to follow us on our social sites!:
Inspire & Achieve is a Non-Profit Organization promoting higher education, undergraduate scholarships, and Cybersecurity awareness to the community. For additional information, please email us at info@inspireandachieve.net.